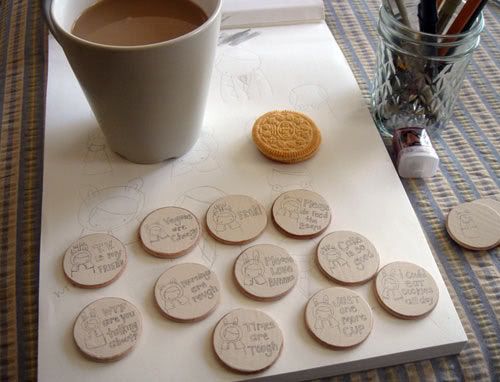 I've been wanting to get more affordable pieces into my shop, I don't have anything under $10 which I think would be a good thing for bringing in more customers, broke or otherwise. When making one of a kind pieces it can be hard to achieve a lower price point and make more than minimum wage. My resin pieces are very time intensive and the resin can be very temperamental. I wanted something a bit more off the cuff that I could churn out within a day. Eureka!
Here is the first installment of my Affordable Original Art Series.
Acrylic and Pencil on Wood.
Alice The White Bear
,
Amabel The White Rabbit
and
Collette The White Rabbit
will be up in the
shop
this evening.
Secondly, new magnets with little quips and characters. The sayings are quite autobiographical and make me smile, this is a fun way for me to express my appreciation of certain things and perhaps poke fun at a few friends. The first handful that I put up in the shop already sold, so I'm giving a heads up that I'll be posting these over the weekend in the
shop
.
Happy Friday the 13th folks. I do hope I get some really good news that I've been waiting on to be confirmed so that I can shout it from a mountain top to you:)
Like this post? Help spread the craftyFOLK word by clicking the retweet button below.