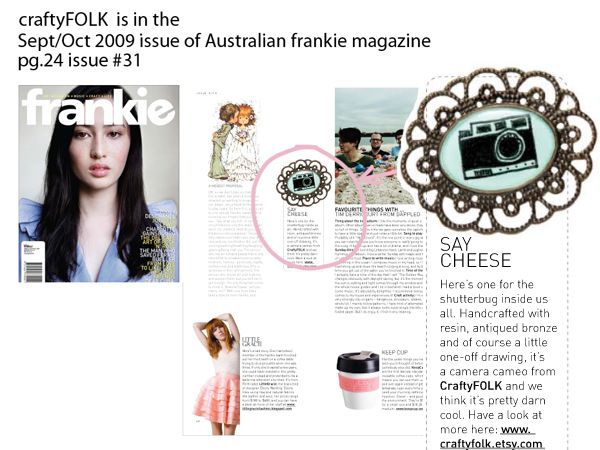 Yep, yours truly! They've featured my illustrated
Camera Cameo
which is choose your color (fancy!). I've kept my lips zipped so I wouldn't jinx anything until I saw it for real in the flesh. Well, a digital version in the flesh is good for me until I get my little fists on the paper verison.
frankie magazine
is out of Australia, they cover everything worth covering, design, fashion, photography, music, craft, general goodness and I've been a fan for a long time. I've always wanted
my band
to be featured in their music section (next record perhaps), so it's quite a nice surprise to get in through the craftyFOLK route.
It's
September/October 2009 issue 31
if you happen to pick one up or get a digital copy.
Needless to say, I'm quite pleased with myself and I'm going to tackle some of those crafty To Do's that have been swimming in my head for a few months. I'm really looking to expand my offerings in the shop, so working on adrenaline can be very helpful.
Signing off, time for an afternoon cup of something...
Like this post? Help spread the craftyFOLK word by clicking the retweet button below.